Post by ☽ Ash ☾ on Dec 22, 2014 16:18:24 GMT -5
Camp
ShadowClan Camp is well hidden in their territory. From the outside, it looks puny and small, but on this inside, it is rather large.
The Freshkill Pile is in the centre of camp.
Going clockwise, the Elders' Den is above the Freshkill pile, and it is the second largest den in the camp.
Next is the Medicine Cat's' Den. The Medicine Cat's Den is one of the smallest dens in the clan, but it holds enough room for over five cats.
The Nursery is located directly beside the Medicine Cat's den. It is larger than most of the dens so that the kits can run around. It is beside the Medicine Cat's den so there is quick access to it, just like the Elders' Den is located right beside it.
The East Tunnel is beside the Nursery on it's left.
Beside the East Tunnel is the Apprentices' Den. It is the third largest den in camp, and located beside the Warriors' Den.
The Warriors' Den is the largest in the camp so that it can hold the large amounts of ShadowClan Warriors.
Next comes the West Tunnel to exit from, and Talking Spot. Both tunnels, West and East are carefully guarded by trusted Warrios.
Finally comes the Leader's and Deputy's Den. These dens are very small because they are only meant to hold one or two cats.
Prey
ShadowClan's prey is mainly food that they can find in a swampy area. This consists of:
-Frogs
-Small Birds
-Rats
-Mice
-Vole
Info
ShadowClan cats are very selfish and full of pride. They are very thirsty for power and strength, trying their hardest t prove that they are the strongest of all of the clans. Though they have had rough leaderships, ShadowClan cats can see past it and welcome new leaders without hesitation. These cats are rude and disgusting on the outside, but friendlier and welcoming on the inside. The clans believe that the cold wind blowing across their picked territory chills their hearts and makes them awful, when really it doesn't. They are the best at stalking stealthily.
Territory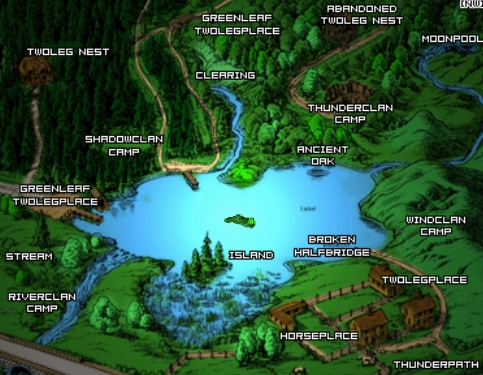 ShadowClan territory is filled with dark pine trees. Near the edge of the territory is a Twoleg Den inhabited by one twoleg. A stream divides ShadoClan and ThunderClan territory, whilst Greenleaf Twolegplace separates it and RiverClan.