Post by Solaris on Nov 12, 2016 3:35:41 GMT -5
((More info is currently being worked on~))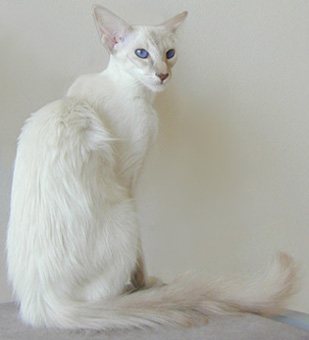 "Hm? Are you hurt? Don't worry, I'm here to help!"

Name:
Petalflight
Age:

54 Moons
Gender:

Tom
Role:
Medicine Cat
Allegiance Description:
Lilac pointed tom with blue eyes.
Detailed Description:
A sleek faced tom with an overall thin build, he is just as delicate as he looks. While he may seem a little frail, he still has the speed of any Darkclan warrior. His fur is of medium length, and sometime's he's called the ghost of the camp because of how pale he looks. His lilac points are almost unrecognizable from a distance, and sometimes are hard to tell when up close. His eyes are a clear blue, and his ears are on the rather long. While he isn't very scarred, he does have one large one stretching from his inner thigh to his chest.
Personality:
A very sweet-hearted and gentle cat, Petalflight is the type to never hurt a fly. His peaceful nature generally calms those around him, and somehow he always knows just what to say to make his clanmates feel better. He has a bad habit of isolating himself however, for the fear of getting too attached to his friends and family in fear of losing them. He also comes off as laid-back, though he is still a hard worker. His somewhat lax personality sometimes lead him to seeing situations as a lot less serious than they actually are, making him take more time to let things sink in. Its also difficult for him to recognize when someone is being sarcastic, as the tone usually just flies over his head. Sometimes it hard to tell whether or not he is serious, and many wonder if he even has a temper. He is a good counselor, and is always willing to lend an ear if someone needs it. He is always ready to put himself behind another cat to help them move along, because not everyone is able to push themselves to do what they have to do. He does have a good sense of when someone needs their space and when they just need a bit more encouragement, as he was often the one being pushed by his family to do better. Because of his tendencies to be the one pushing others to follow their wishes, he never really forms any new wishes for himself.
Mate/Eyes For:
Nobody at the moment.
History:
Born and raised in Darkclan, Petalkit was born believing that he was destined to be a great warrior. Who could blame the little kitten, all he wanted to do was follow in his father's footsteps. Branchtail was one of Darkclan's senior warriors, and was even known to be well respected in other clans. His future in fighting was just not meant to be, as he would later learn from the whispers of Starclan. He had snuck out of camp to prove how brave he was, but soon found himself lost in the territory and close to the city border. Before he knew what was going on, he had been attacked by some rouges, his father gave his life to save him, but with how wounded he was many prepared to hold vigil for the both of them. Those nights, he clung onto life, and was visited by many different cats, whose names he has yet to be able to recall. They told him that he would have never been able to stomach the gruesome brutality of battle, and was nearly torn into two as easily as a delicate petal.
Choosing the path that he was guided onto, he found that the idea of becoming a Medicine Cat fit him more and more each day, as he effortlessly studied and learned under his mentor, Asheye. He heard the words of Starclan as clearly as she did, possibly even better. He always made sure to follow her to medicine cat gatherings, as it was one of the only times he'd guarantee a visit from his father. Though it pained him not being able to share any information with his mom, she seemed to be fine without any encouragement. When sickness took ahold of the clan, it took away the last of the cats that were closest to him along with his mentor. Though he was still somewhat
inexperienced
, he was not going to be a weakness for his clan. Wrapping up his herb studies and earning his name, he is proud to serve his clan as their Medicine Cat.
Family:
Branchtail (Father) and Palesky (Mother)
No siblings.
Relationships:
No notable ones at the moment.
Other:
WIP